The is a stub
This article is a
stub
. You can help Sym-Bionic Wiki by
expanding it
and pilot it into glory.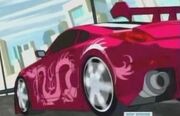 White Dragon is Mike Chan's street race car. It is likely a late model Nissan 350Z, with some body mods to make it look like a newer 370z. The name comes from custom Paint job, a fluorescent Red with a White Dragon on the Sides and hood.
Visual Customizations
Edit
The image of the dragon has been fitted with LEDs that light the edges of the dragon's body. The B-pillars, which are normally black regardless of body color have been painted the same red color. Similarly the silver door handles have also been painted. The front clip has low ground clearance, bumper skirt. The rear has a custom bumper that has rectangular exhaust cuts. A large aftermarket wing is mounted on the rear of the car.
370z Conversion
Edit
A externally a 370Z and a 350z are very similar. The Car retains some distinct features that show it was born as a 350z, the non-lapped Head lights, the flat bottomed rear windows, the slot under the doors and the taillights lacking clear backup lights.
The car has been made to look like a 370z by the removal of radio antenna and the rear wiper. The custom rear bumper does not have the integral backup lights just like the 370z bumper. The small 370z style rear spoiler is present, but is over shadowed by the large custom foil over it.
Not so legal Mods
Edit
Mike Chan also installed special features to the car to allow him to cheat, such as emitting smoke from behind the car to blind anyone behind him. The car is a combination of a 350z and a 370z, that has left it without noticeable backup lights.
Current State
Edit
At the conclusion of the Episode named for the car, it is involved in a head-on collision at the end of an under ground passage. The impact caused major crumpling up to the windshield in both the hood and right fender. It is not known if the damage totals the car.
Ad blocker interference detected!
Wikia is a free-to-use site that makes money from advertising. We have a modified experience for viewers using ad blockers

Wikia is not accessible if you've made further modifications. Remove the custom ad blocker rule(s) and the page will load as expected.