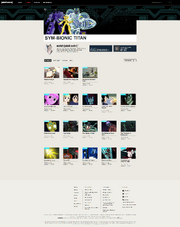 It looks like Adult Swim has finally removed Sym-Bionic Titan (& Beware the Batman) from it's available VOD page here & here. This means the only legal way of watch Sym-Bionic Titan is either saved broadcast using a PVR or buying the Standard-Definition videos from iTunes (Volume 1 & Volume 2).
You can still view the archive page of the SBT VOD site on Archive.org, however, they can not be steamed.
Ad blocker interference detected!
Wikia is a free-to-use site that makes money from advertising. We have a modified experience for viewers using ad blockers

Wikia is not accessible if you've made further modifications. Remove the custom ad blocker rule(s) and the page will load as expected.