Home
Talk

1
171pages on
this wiki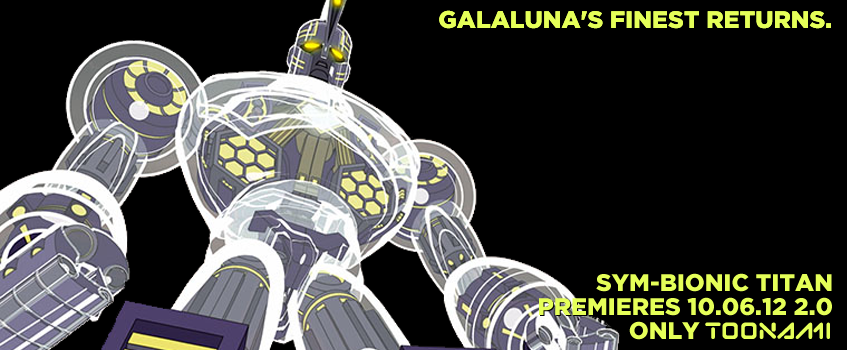 Welcome to the English Sym-Bionic Wiki, the definitive source for the Sym-Bionic Titan franchise, where anyone can edit!
Warning: This wiki contains spoilers.
Search 171 articles
Started on September 6, 2010, Sym-Bionic Titan Wiki is currently home to 171 articles.

The Sym-Bionic Titan series is the newest Cartoon Network series, but don't quite know what the phenomenon is all about? You can find out more info here! If this is your first time on the site, check out the About page. Need some help? Please visit our Help section. Want to learn the rules and regulations of the wiki, please refer to our Rules and Manual of Style pages. Other questions, comments, or concerns? You can visit the Community Portal and our Forums. Any other topics you want to learn about or refer to can be selected in the "Special content" section to the right. News regarding both the Sym-Bionic Titan franchise and the Wiki can be viewed below in the "Latest news" and "Wiki news and updates" sections down below. A host of other things such as polls and facts are located below as well.

Please enjoy the site and hope to see you around!
About Sym-Bionic Titan

SYM-BIONIC TITAN is an American animated television series by Genndy Tartakovsky (acclaimed creator of Dexter's Laboratory, Samurai Jack and Star Wars: Clone Wars) for Cartoon Network.

The series premiered on September 17, 2010, and we have created this Wikia to offer all the information you need on SYM-BIONIC TITAN. We are small, but we are growing rapidly! Please check out the Character Battles page. The contests is basically about voting for your favorite character like the MySims Wiki. We ask that you please do not try to mess up the wiki. The Wiki currently does not have admins, but we would be happy if you join. We are currently look for a wiki a contributor that is making pages that are not about the show. The shows canceled due to lack for merchandising.

Featured Episode: Neighbors in Disguise


Neighbors in Disguise is the second episode of the Sym-Bionic Titan series. Ilana suggests that they decorate their new home to fit in to the neighborhood, but as they enter the city's mall, Lance has a hard time adjusting the new life while protecting the Princess and assaults a salesman he thought was hurting Ilana.

When the salesman calls in Mall Security to apprehend them, Lance causes a scene. As they leave, a 5-headed robot beast finds them in their Suburban Neighborhood. Lance, feeling that this is his fault, tries to redeem himself by destroying the beast's volatile power core. Later, Solomon confiscates security footage of Lance transforming. (Read more...)

Featured Article: Ilana


Ilana is the daughter of the King and sole heir to the throne of the planet Galaluna. She has always been a symbol of hope and happiness for the citizens of Galaluna –the very reason evil forces hunt for her on Earth; her very existence is enough to rally a rebellion against her people's oppressors and for that she must be destroyed. Ilana is determined to make the best of her new life and to discover all she can about her adopted home.

The King of Galaluna chose Lance as his daughter's protector and now Lance must work to ensure the safety of the Princess and also seize this new-found opportunity to clear his family name. (Read More...)