The is a stub
This article is a
stub
. You can help Sym-Bionic Wiki by
expanding it
and pilot it into glory.
Disambiguation: The Sym-Bionic Titan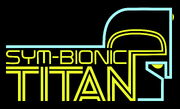 Sym-Bionic Titan is an American animated television series by Genndy Tartakovsky (creator of Dexter's Laboratory, Samurai Jack and Star Wars: Clone Wars) for Cartoon Network. The series premiered on September 17, 2010, and further details were revealed at Cartoon Network's 2010 Upfront. Images from the upcoming show were first shown at the 2009 San Diego Comic-Con International. But on March 30, 2011, the show was cancelled, but a rumor going around for a possible TV movie spread, but it's still unofficial. The show began airing reruns for the first time since cancellation on the revived Toonami block on Adult Swim, taking the 2:00 am slot starting October 6, 2012. Following the addition of Uncut Naruto to the block, Titan's timeslot moved up, but it and the other shows (save for Tenchi Muyo! GXP) have since shifted back to their initial positions. On February 24, 2013, the series started over from episode 1, having completed its first run on the block. On March 10, 2013, Sym-Bionic Titan, in addition to Eureka Seven, did not air due to Daylight Savings. The following week, both shows were not included in the lineup again, along with Soul Eater, Thundercats, and Tenchi Muyo! GXP, in order to make room for the movie Evangelion 1.11: You Are (not) Alone, which Toonami aired in commemoration to its sixteenth birthday. On April 27, 2013, the debut of of TOM 5, the show once again changed its timeslot, this time to 3:30, for the addition of IGPX to the block, while other shifts in the schedule cut out one of the two Cowboy Bebop episodes. It has also been confirmed that the timeslot Sym-Bionic Titan will not be affected by the addition of uncut One Piece on May 18, 2013.
Billed as "an exciting hybrid of high school drama and giant robot battles", Sym-Bionic Titan features "the adventures of three beings from the planet Galaluna who crash-land on Earth while attempting to escape their war-torn world." The series follows the lives of Ilana, Lance, and Octus, two alien teens and a robot in the form of humanoids who arrive on Earth, an "identical" planet to Galaluna, while fleeing an evil general who has taken over their home planet with the help of monstrous creatures called Mutraddi.
The three main characters include Ilana, princess of the royal family; Lance, a rebellious but capable soldier; and Octus, a bio-cybernetic robot, all of whom must now blend into everyday life in Sherman, Illinois. Posing as high school students, Lance and Octus work to conceal Princess Ilana from General Modula and his hideous space mutants sent to kill the sole heir of Galaluna. When called into battle, the Galalunans are outfitted with individual armor that provides more than ample protection. It's when the gravest of danger appears that Octus activates the sym-bionic defense program and he, Ilana, and Lance unite "Heart, Body and Mind" and come together to form the spectacular cyber-giant Sym-Bionic Titan.
Character
Edit
Main CharactersEdit
The Sym-Bionic Titan
Edit
The Sym-Bionic Titan (referred to as "Titan" by humans) itself is the combined form of Lance's Manus armor, Ilana's Corus armor, and Octus's body, the result of the sym-bionic defense program that Octus possesses. Its interior structure is the combined Manus and Corus armors and its transparent exterior armor is Octus's outer shell. It is capable of flight and can fabricate weapons and defenses in response to the pilots' thoughts. The Titan is controlled by Ilana and Lance's thoughts, with Octus focusing on more technical matters such as weapon fabrication. Octus implies in the series premiere that there are hidden subroutines in his programming, that even he doesn't know about, which will presumably allow the Sym-Bionic Titan to access even more powers in the future.
The Mutraddis are monsters used by General Modula in his plot to conquer Galaluna and kill the princess. Their homeworld is a damaged planet called Mutradd. So far, only a few Mutraddis are known to be able to speak. Among the featured Mutraddis are:
Earthlings
Edit
Production
Edit
Tartakovksy drew inspiration from many sources. He grew up with mecha anime series from the 70's and 80's like Speed Racer, Robotech and Voltron and states: "For whatever reason, I have always loved the idea of kids driving giant robots." His biggest influence were John Hughes movies like Sixteen Candles and The Breakfast Club, but the relationship between the two teenage leads was also inspired by Hayao Miyazaki's Castle in the Sky.
He came up with Octus and the high-school setting first and then later together with co-creators Paul Rudish and Bryan Andrews added Ilana and Lance as protagonists. The creators of the show took a long time to develop the female lead, Princess Ilana. "A positive strong female character is something I've always wanted to create", Tartakovksy said.
Tartakovksy calls Sym-Bionic Titan "the most challenging project I have ever done."