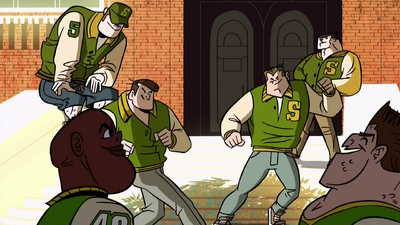 The Jocks are a sect at Sherman High School who are also know as portos & helmet heads. While they are physically the strongest group in the school they are not nearly as smart as the Geeks or controlling as the Sherman High Cheerleaders. They take pleasure in beating each other and others up with physical contact, demonstrated in Escape To Sherman High when they attempt to fight Lance in the Sherman High School cafeteria.
Ad blocker interference detected!
Wikia is a free-to-use site that makes money from advertising. We have a modified experience for viewers using ad blockers

Wikia is not accessible if you've made further modifications. Remove the custom ad blocker rule(s) and the page will load as expected.